Elie Jewelry Design since 1989
Margarette Elie designs, crafts and restores the jewelry and heirlooms that define peoples' lives.
Whether repairing a treasured family heirloom, or designing unique new jewelry, the same care and attention is applied.
The jeweler's craft has been honed here for 30 years since before our store opening in 1991, and put to work on pieces which stand for the most important moments in their owners' lives.
We have created Engagement rings and eternity rings, confirmation pendants and memorial lockets.
Custom jewelry is a way to celebrate relationships between parents and children, friends and lovers, husbands and wives and siblings.
Custom jewelry can embody the symbols of a family's heritage or an individual's achievements.
We give our deepest commitment in design quality and craft to make sure that the custom piece reflects and expresses the emotion or memory desired.
Workshop and Store
Just an hour from the center of Seattle, in the majestic beauty of the Nisqually Valley, our workshop combines ancient craft and modern technology to transform the most beautiful materials on Earth into unique, sophisticated jewelry.
Every custom jewelry design is first rendered according to client's specifications using the latest computer aided design and visualization techniques, allowing clients to see exactly how each item will look on completion.
From there, work moves to a traditional jeweler's workbench, where the ancient craftsmanship and lifetime of study turn the raw materials into a finished piece.
Margarette's Philosophy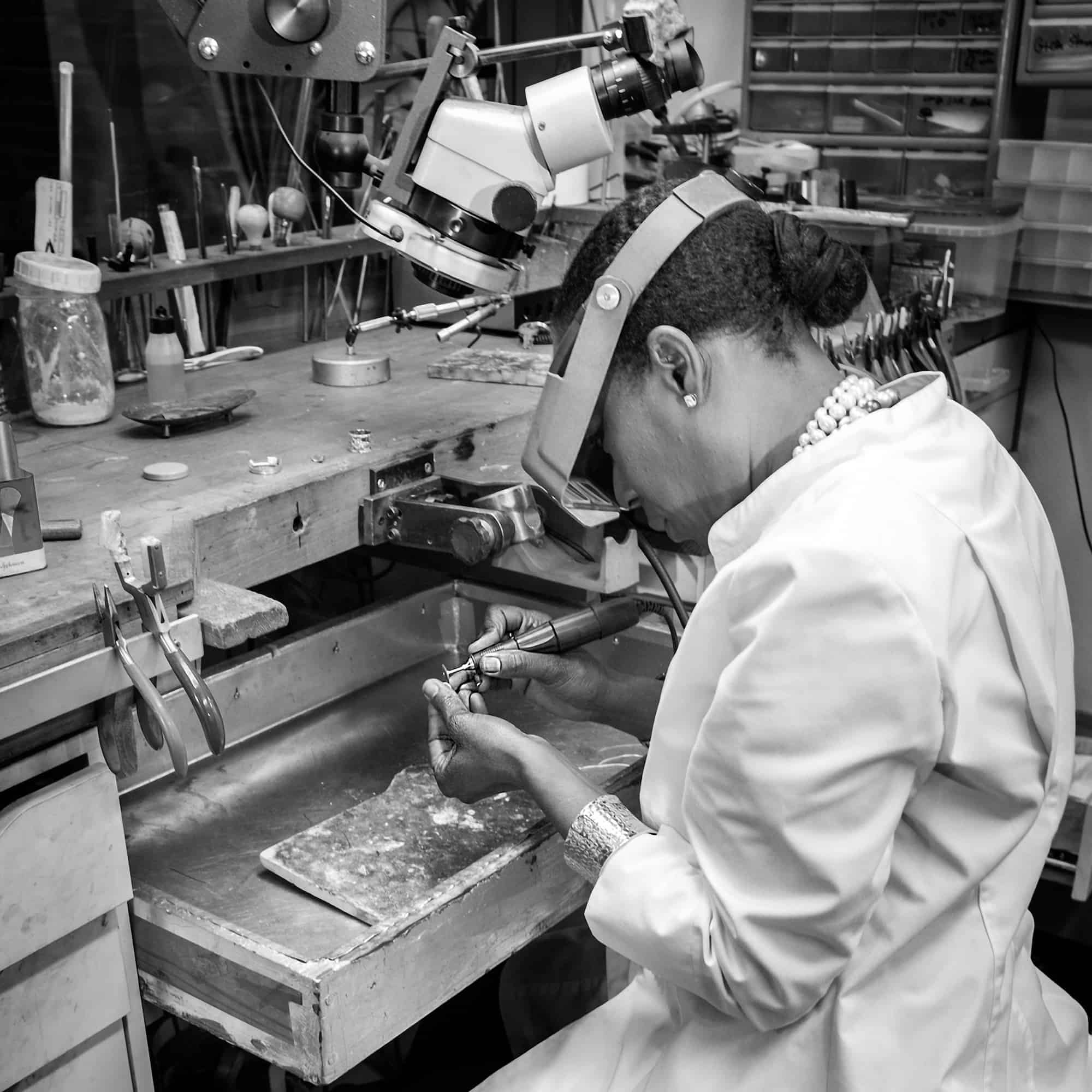 "Fine jewelry is a token of the love, appreciation and value we place on others and ourselves. Within every person is an intangible and indefinable beauty that the right jewelry, like a talisman, can indicate and enhance".
"When a person comes to me with an idea in mind, I welcome them to sit at our bistro style counter for a relaxing moment and offer them a glass of champagne or espresso …then we talk".
"Listening to what people want is the key. Often they have a significant"Listening to what people want is the key. Often they have a significant story related to the piece they envision. Then, together we translate their desire into a gorgeous work of art (and meaningful jewelry)!"
"Black Pearls are so special, so significant. They are warm, feminine, sexy and so luxurious. They don't openly broadcast extravagance. Yet, they give a feeling of intimate indulgence".
"It gives me great satisfaction when a woman who has actually bought Black Pearls for herself leaves my store. I know she will feel wonderful about herself and will always wear them with a smile. What a great pleasure to share that with my clients! It is a blessing".
Margarette loves to share her passion for beauty and can help you create an outstanding and elegant custom jewelry design.
Recent Creations
Every week in our workshop award-winning jewelry designer Margarette Elie creates new sophisticated custom designed jewelry. These are just a few examples. For more of our work browse our online catalog or visit us at our store and workshop in Yelm, WA.